Personalised Gifts Ormskirk – Where Every Gift Tells a Story
Welcome to Personalised Gifts Ormskirk, your trusted partner in celebrating life's moments. Each gift we create is not merely a product – it's a memory, a gesture, a reflection of your thoughts and feelings. This is where we merge your imagination with our craftsmanship to bring your gift ideas to life.
🎨 Celebrate Creativity with Our "Art by Kids" Collection! 🎨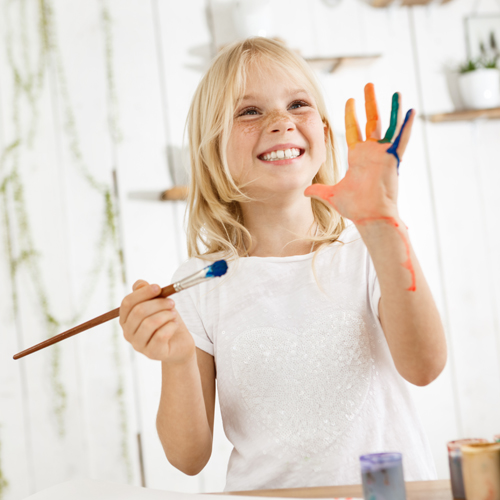 Discover a world where your child's imagination comes to life!
From mugs to mousemats, coasters to cushions, we've turned everyday items into extraordinary keepsakes.
Our "Art by Kids" collection transforms your child's drawings into functional and beautiful products that brighten your home and warm your heart.
---
Why Visit Us?
Such a lovely shop and the service is outstanding! They have the cutest cups, and the t shirts are great 😃 I love browsing the shelves and seeing what else I can bring home. Highly recommended!
I have bought a few gifts from here and every time I have been so impressed with the service and quality of the gifts. Michelle and her partner have always been so helpful and gone out of their way to make my gift perfect and just how I imagined it. There are so many gifts to chose from. Would highly recommend it, it's now my favourite shop for gifts.
Absolutely lovely gifts. Michelle created a brilliant design and my friend was over the moon. Highly recommend.
Michelle was extremely helpful and designed items exactly how I had hoped for! Highly recommend.
Georgina Schofield
27/12/2022
Lovely shop can do very personalised items glad I found it will be back soon...x
Lovely shop. Michelle was so helpful. Quality excellent. Very pleased with my item.
What a great place to get personalised gifts. Quick service and really pleased with what I bought!
Amazing gift experience from walking in the shop to collecting my gift , will be back for more fab gifts
Honestly , I couldn't be happier with the with the help Michelle gave me for a last minute present for my wife, and she is very happy with her gift. Super friendly atmosphere in the shop and the service is second to none . Highly recommended 👍👍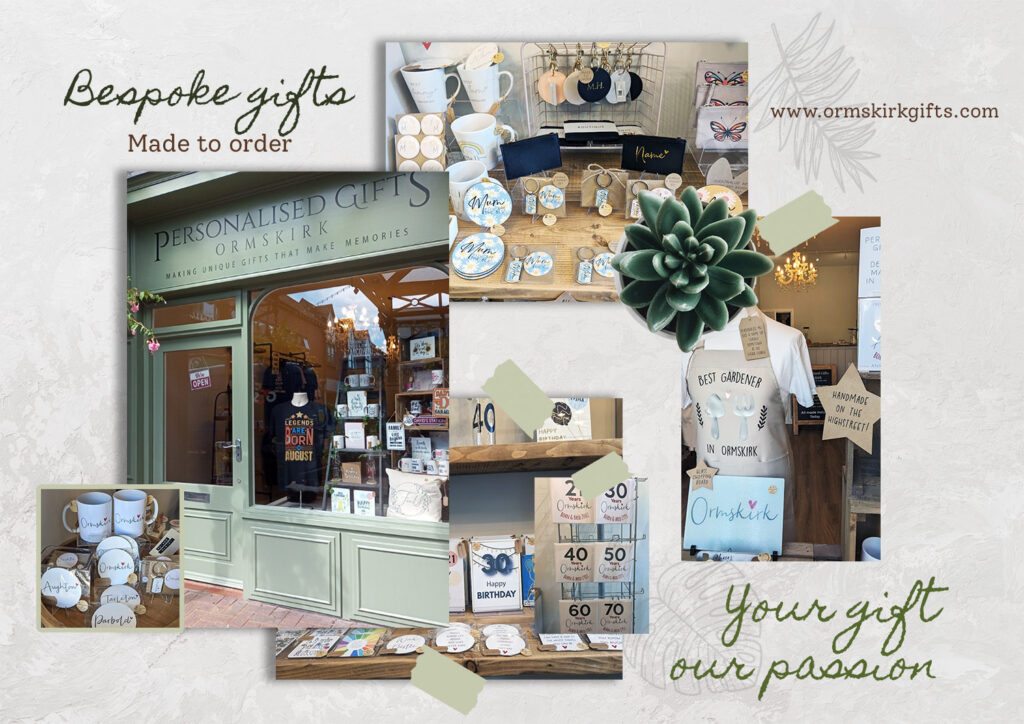 Located in the heart of Ormskirk, Lancashire, we're more than just a gift shop – we're storytellers, memory makers, personalisation experts.
Under the guidance of our creative head, Michelle, we ensure every item that leaves our shop is a unique piece, a 'One of a kind' gift that stands out from the crowd.
The essence of our business is not in the what we do, but the why we do it. We don't just create gifts; we help forge bonds, ignite emotions and inspire stories. We are driven by the joy and delight our personalised products bring to our customers. By understanding your purpose, your 'why', we can create the perfect gift that is so much more than just an object.

Our team combines the power of personalisation with the thrill of creation. We listen, understand, and design specifically for you or your loved one. Each item we create, from T-shirts to mugs, coasters to hoodies, carries a piece of your story, making every occasion special.
Unleashing Creativity with Our Range of Services
Our gift items aren't made on a production line. We craft each one by hand, allowing creativity to take the driver's seat. We have transformed ordinary gift-giving into an intimate, innovative process. Our diverse range of services includes personalised designs on:
---
Step into our store at 25 Burscough Street, Ormskirk or explore our collection online. Let us be your guide on this gift-giving journey. With us, you're not just buying a gift, you're creating an experience, making a memory.
Quality matters to us, we strive to be the best. Our promise is a beautiful, personalised gift that brings joy to you and your loved ones, making your special occasions unforgettable.
Be the first to hear about our newest personalised gifts
---
The magic unfolds at Personalised Gifts Ormskirk, where every gift has a story to tell.
Wedding gifts
Anniversaries
Birthday gifts
Births
New Home
Graduations
Christenings
Shop openings
Retirement
Congratulations
Passing Driving Test
T Shirts
Latte Mugs
Coloured Mugs
Coaster sets
Bar Runners
Bottle openers
Cards
Metal Signs
Hoodies
Baseball Caps
Vinyl Signwriting
Moneyboxes
..and so much more
Visit Us Today
Our door is always open for you to create something extra special. Come in, share your ideas, and let us create your perfect gift. From one-off pieces to bulk orders, every project is treated with the same passion and dedication.
At Personalised Gifts Ormskirk, we don't just sell gifts – we make moments memorable.